About Flying Lion Brewing
Flying Lion is a family operation in Columbia City, Seattle, conceived by four beer-loving brothers and our parents. It all started with root beer batches in the basement and dinner-table discussions about beer flavors and hop utilization. Years, beers, and many late nights later, we built the brewery we'd always dreamed of right here in south Seattle.
After opening in 2014, we've welcomed a few more craft-beer-loving people to the team, grown out of some of our old 3 bbl fermentors, added a bunch of taps, and started shipping our kegs around the city. We hope you'll join us soon on this adventure we call Flying Lion Brewing!
Flying Lion Brewing's Staff
Griffin
Favorite Beer? Rye Stout
One of the brothers? Yes
Griffin grew up in Michigan watching thunderstorms and shoveling driveways, found a Geology degree, and found that it wasn't all peaches and cream. Then he moved to Seattle and started a brewery with his brothers! When not scheming new beers for Flying Lion, Griffin spends time in the woodshop, cycling, or napping on the roof.
Sara
Favorite Beer? Call it a Day Pale Ale
One of the brothers? No
Sara grew up in Minnesota camping with her family, swimming in lakes, and learning her grandmother's Hungarian recipes. At fourteen she starting slinging coffee and toast to the local regulars and has been devoted to hospitality ever since. After years of working in Seattle restaurants, she is excited to share her love of beer at Flying Lion. She often obsesses over campfire cooking, recycling and antiques.
Andy
Favorite Beer? Rye Stout
One of the brothers? No
Andy grew up in Washington slinging hay bales and falling into ditches outside of Bellingham. After living several years in Alaska, he has returned to Washington and is excited to be selling & slinging kegs for his favorite brewery. Andy is pretty handy and is often found working on his 66' Chevy, building the perfect campfire or creating clever electronics.
Evan
Favorite Beer? Rye Stout
One of the brothers? Yes
Evan grew up third-in-line in the Williams family and studied science like everybody else. During one defining field study in 2009, his scuba diving buddy and hovercraft co-pilot taught him how to run and brew beer (thanks Seth!) Nowadays, the only thing that has legs to keep up with Evan is FLB's Belgian Quaddamnit. When not competing for a spot on the US Mountain and Trail running team, he can be found dreaming up community events, serving pints, or designing brewhouse gizmos. Fun fact: Call it a Day Pale was Evan's first attempt at an original homebrew recipe!
Katie
Favorite Beer? Gin & Tonic Sour Gose
One of the brothers? No
Katie grew up in Chicago and has been in Columbia City for 3 years. She adores this neighborhood and will frequently be found paddleboarding on Lake Washington or running around Seward Park. Flying Lion pints, the staff and the beloved, sorely missed tent saved her sanity during the pandemic so much so that she asked for a job! When she is not slinging brews, Katie can be found hammocking in trees, reading in her backyard, frequenting Seattle breweries, and training to be a therapist.
Odessa
Favorite Beer? Blood Orange Red IPA
One of the brothers? No
Odessa spent the last 10 years in Milwaukee, WI and transported to Seattle in August of 2021. She fell in love with Columbia City right away! When not at Flying Lion, she can be found outdoors hiking, at Seward Park or playing softball with friends.
Rachel
Favorite Beer? Belgian Strong
One of the brothers? No
Rachel grew up in the heart of Chicago and has been in the Columbia City neighborhood since before it became cool! During that time she fell in love with real estate and made a career of buying and selling houses. She also fell in love with Flying Lion and the diversity of its patrons. When not working, Rachel can be found holding either a pickleball paddle, a fishing pole or a kitchen utensil all with House music playing in the background.
Dean
Favorite Beer? Larry, Curly, and Moesaic Pale Ale on CASK
One of the brothers? No
Growing up in Wilmington, North Carolina, Dean made his way to Seattle by way of Atlanta. Before beer, Dean worked in creative, marketing and events, but found his way back to the PNW through his love of coffee and other brews. Outside of work, Dean is likely working on his car (a Mini named Ringo), hanging with pups, or taking an impromptu road trip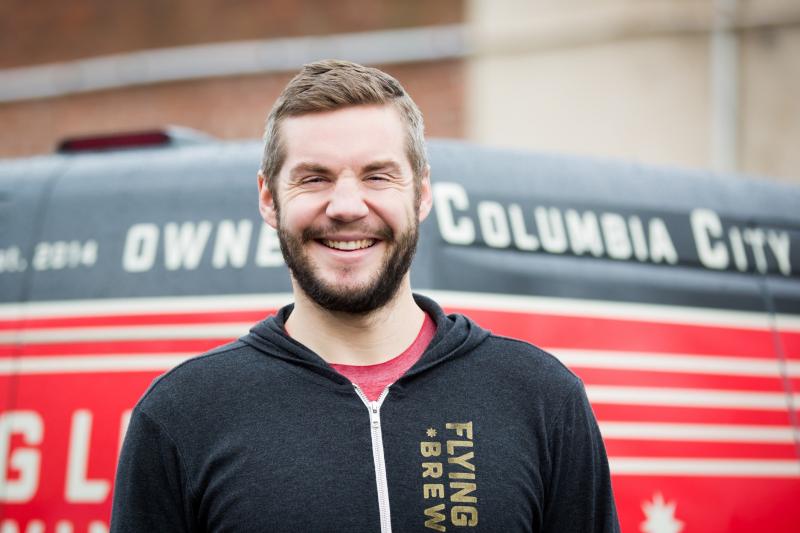 Tyler
Favorite Beer? Sweet Potato Porter
One of the brothers? Yes
Tyler grew up in Michigan and mostly just did math for his first 34 years on Earth. After a PhD in Economics and 5 years coding at a certain large Seattle tech company, Tyler is now working on a number of personal projects, including helping Griffin with technology at Flying Lion. Along with the brewery, he and his wife Julie keep busy with their three brewers-in-training - Augie, Jasper, and Silas!